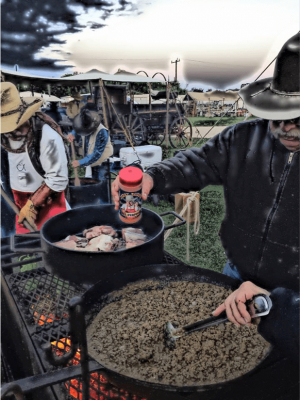 WHAT WE DO:
Offering World Champion Chuckwagon BBQ Seasoning Recipe for Chili, mouth-watering Taco Seasoning, jaw-dropping Smoky Mesquite Fajita Seasoning, outta' this world Dry Rub for Ribs and Brisket, Buttery Lemon Pepper, and superb Garlic Pepper! Guaranteed authentic blends that enhance the most amazing robust flavors!
WHY WE SERVE:
helping bring families and friends together with a wonderful meal whether it's your backyard grilling, tailgating for the big game, or amazing barbecue cookout.
HOW WE CRAFT:
Seasonings are handcrafted cowboy bbq seasonings. these low-salt, authentic seasoning mixes include smoky mesquite fajita seasoning, champion chuckwagon bbq rib rub, best brisket rub, award-winning all-purpose seasoning, best creole garlic seasoning, gourmet garlic pepper seasoning, butter flavored lemon pepper with chipotle seasoning, jalapeño sizzling salt seasoning, and the chuckwagon chili cook-off seasoning mix.
OUR EXPANDED PURPOSE:
We are passionate to serve and improve healthcare and educational food experience and reputation. We partner with institutional food services that share the mission to provide quality meal satisfaction. Each of our seasonings add fresh, robust flavor to compliment every meal. Our seasonings are known for their freshness, quality, outstanding flavor with low sodium, and affordable options. Jerry Baird's Gourmet Seasoning standards are approved by healthcare and educational food facilities.
We hold to an overall mission to pursue opportunities to serve communities, improve morale, and offer daily satisfaction of serving the best.